September 2022 Newsletter
In This Edition
First Annual Lake Monroe Day

Another Great Kayak Trip

Take The Water Quality Pledge
Volunteer Opportunity – Science Committee
Algal Blooms and Taste Issues
Lake Monroe Annual Cleanup
Vote for FLM
Septic System Maintenance Program Final Report
Watershed Summit
Upcoming Events
Membership Renewal
FLM Around Town
First Annual Lake Monroe Day
Friends of Lake Monroe is pleased to announce a new annual celebration, Lake Monroe Day!  Lake Monroe has been used as a drinking water source since 1967 and currently provides drinking water to over 130,000 people. Lake Monroe generates over $40 million in economic impact annually in our region from recreational tourism. Lake Monroe and its adjacent wetlands provide critical habitat for wildlife including the bald eagle. Every resident, community and business depends on clean, abundant water and we must do our part to protect this valued resource for generations to come. We invite our community to come together to recognize the importance of Lake Monroe and make a commitment as a community to protect and preserve the lake.
Please join us in celebrating Lake Monroe on September 18, 2022, at one or more of the following events:
Pine Grove Paddle 
Sunday, September 18, 2022 4 pm – 6 pm
David Rupp of IndiGo Birding Nature Tours will lead one last guided kayak trip for the season at the Pine Grove SRA.  This Friends of Lake Monroe member event is FREE and includes the use of boats, paddles, PFDs, and binoculars for those who need them – but is limited to 10. No experience necessary.  Register here.
City of Bloomington Utilities Water Treatment Plant Tour
Sunday, September 18 10:00 am, 12:00 pm, and 2:00 pm
Join staff from the City of Bloomington Utilities (CBU) for a tour of the Monroe Water Treatment Plant.  Learn about the treatment process that turns water from Lake Monroe into our drinking water.  Tours last just over an hour and close-toed shoes are required.  Space is limited.  Register here.
Lake Monroe Celebration at Upland
Sunday, September 18, 2022 5 pm – 8 pm
Upland Brewing Wood Shop, 354 W 11th St., Bloomington, IN 47404
Celebrate the importance of Lake Monroe by joining us for a festive evening at the Upland Brewing Wood Shop. Friends of Lake Monroe will provide music and appetizers. This is a great chance to get to know other lake supporters and to learn more about our ongoing work preserving and enhancing Lake Monroe.  No registration needed.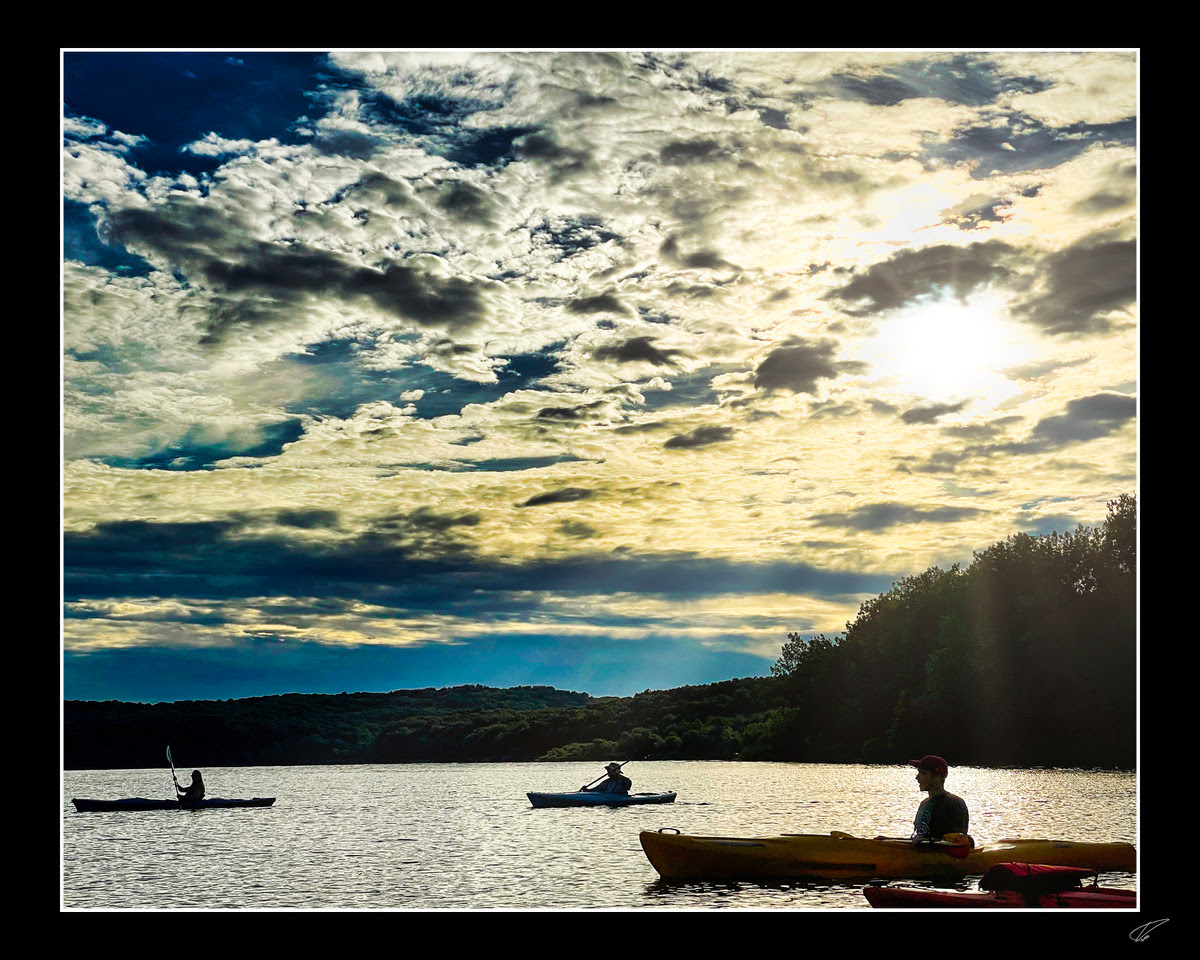 We were pleased to welcome three pairs of "Bigs" and "Littles" from Big Brothers Big Sisters to join our paddle trip on August 12th.  Four had never paddled before and were excited (and a little nervous) to get out on the water alongside four more experienced paddlers.  Highlights included egrets, bald eagles (both adult and juvenile), and a beautiful sunset.  Many thanks to Kip May of Kip May Photography for the great photo and to David Rupp of Indigo Birding Nature Tours for guiding.
Take The Water Quality Pledge
Your actions make a difference in water quality downstream.  Are you committed to choices that will improve water quality?  Take the pledge to do one or more of the following:
Pumping my septic tank every 3-5 years
Reducing or eliminating fertilizer use on my lawn
Picking up my pet's waste
Disposing of trash properly
Planting native plants along streams and ponds
Volunteering with Friends of Lake Monroe
Filling out our online water quality pledge form helps us track participation in the Lake Monroe watershed and neighboring areas.  This information in turn helps us acquire grants for new projects.
Volunteers Needed for Science Committee!
Friends of Lake Monroe is bringing back the Science Committee to plan our next citizen science project – documenting shoreline erosion around Lake Monroe.  Would you be interested in meeting monthly to develop a plan and protocol for data collection and volunteer coordination?  Please contact watershed coordinator Maggie Sullivan at watershed@friendsoflakemonroe.org.
Looking for a different volunteer opportunity?  Please contact FLM's volunteer coordinator, Keith Bobay, at volunteer@friendsoflakemonroe.
Algal Blooms and Taste Issues
Tap water tasting funny?  (See this recent article in B Square Beacon.)  Algal blooms often produce geosmin and Methyl-Isoborneol (MIB).  They are not dangerous but they taste terrible and are very difficult to remove from drinking water, even when the algae itself is removed.  This is one of many reasons why Friends of Lake Monroe is working to reduce nutrient levels in the lake so we can prevent algal blooms from happening.  Thank you for your continued support of this critical work.
Lake Monroe Annual Cleanup
In October, we are canceling our normal monthly cleanup and encouraging our members to participate in the Annual Lake Monroe Cleanup on Sunday October 16th from 2:00-4:00pm.  This annual shoreline cleanup is a collaborative effort of Indiana State Parks, the U.S. Army Corps of Engineers, Hoosier National Forest, Friends of Lake Monroe, and the City of Bloomington.
After a 2-year COVID hiatus, the cleanup is back bigger than ever with 8 different "hot spots" for trash around the lake. Each location will have a cleanup coordinator who will coordinate the group and supply trash bags and other cleanup supplies.  Richard Harris, FLM board member and longtime shoreline cleanup coordinator, will coordinate the group at Sugar Creek Bay.  Each site will wrap up with a group photo (so you can show off what you accomplished) and a door prize drawing!  Choose your cleanup location when registering – please note that each location has a different volunteer need and difficulty level.
Details and registration posted here: https://www.eventbrite.com/e/monroe-lake-shoreline-cleanup-tickets-388813129537
Vote for Friends of Lake Monroe!
Septic System Maintenance Cost-Share Program Final Report
Friends of Lake Monroe has wrapped up its pilot Septic System Maintenance Cost-Share Program with 98 vouchers issued and 80 reimbursements paid totaling $7,090.  An additional 4 households indicated that our postcards prompted them to pump their tanks but they did not request reimbursement.  Many thanks to the Community Foundation of Bloomington and Monroe County and Monroe County Stormwater for their financial support.  We hope to expand this program into Brown and Jackson County in the future.
"Thank you for the great work you are doing to clean up Lake Monroe.  Your group acts and brings about real results.  I had my septic tank pumped to assist in the effort to keep Lake Monroe clean, and learned a lot in the process.  I  learned about the Lake Monroe adopt a shoreline cleanup and plan to volunteer in the future. The volunteers seem like such great people and there are many ways to volunteer and support such a great group, whether providing services or financial support.  A little can go a long way with such a great group."  – LeRoy Moe
On Saturday, October 22nd, Friends of Lake Monroe will host a Watershed Summit for local elected officials and community decision makers from across the watershed.  Our goal is to familiarize community leaders and participants with the Lake Monroe Watershed Management Plan and actively engage them in implementation.  We know it will require participation from many different organizations to accomplish all the projects outlined in our action plan.  There are many jurisdictions in the watershed (local, state federal) and bringing them together is a crucial step in identifying opportunities for collaboration.  This is an invite-only event and if you are interested in attending, please contact us at director@friendsoflakemonroe.org.
Join or Renew Your Membership
Hurrah and a BIG thanks to those who have renewed their membership already this year.
For those who haven't gotten to it yet, we need and appreciate you!  Keep an eye open for a renewal letter coming your way soon.  You can renew by mail or through our website. 
Friends of Lake Monroe continues to promote our watershed management plan and engage with the local community.  Pictured is Maggie Sullivan talking with Stephanie Richards of Gnarly Tree Sustainability Institute at the Sustainable Community Engagement Fair for the IU O'Neill School.
Sign Up for our Email Newsletter